The Best Souvenir & Gift Shopping in Rome
When visiting Rome, you're likely going to be looking for souvenirs to take home with you. Something other than those miniature Colosseum trinkets you see all over the city. Here is a list of places to help you find the perfect souvenirs in Rome, to remember your Roman holiday and perhaps inspire you to come back again soon.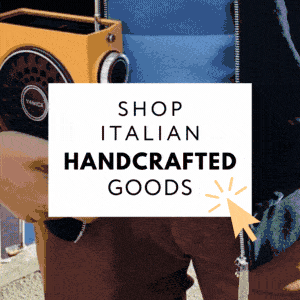 Craft Matters: your platform for independent artisans in Italy
www.romeing.it/shop/craft-matters/
Handmade high-quality Italian goods are a thoughtful gift to yourself or your loved ones that can hold heartfelt memories. For a smoother shopping experience you check our new project "Craft Matters" that aims to provide an online platform for craftsmanship product retail to support artisan businesses in Rome and in Italy. Written profiles tell their stories, and products are available for purchase on our website.
---
Glassy Venezia
Via Principe Amedeo, 7 (Termini Station / Teatro dell'Opera)
Located between Termini and Republica metro stops, this cozy little boutique offers a wide variety of accessories and home decor made out of the authentic Venetian Murano Glass. The Guetta family brought the iconic Murano trademark and opened their store here in Rome over two decades ago. Here, you can find a unique jewelry piece or a decorative artwork of your liking to bring back as a memorable gift. Bold and vibrant colors of Murano glass are one of the signature Italian cultural attributes.
---
Trevimage
Via della Rotonda, 10 (Pantheon)
Shop online here: www.romeing.it/shop/artisan/trevimage/

Just around the corner from the Pantheon, you'll find this darling little photography shop run by a local photographer and designer, Carlo De Gori. Here you can buy original photographs of Rome at very reasonable prices. With a big selection to choose from, you'll likely find a snap that pulls on your heart strings. These make for the perfect souvenirs to hang up on your wall when you get home.
---
ZAPORAZZI
Via della Chiesa Nuova, 15 (Navona)
zaporazzi.com
ZAPORAZZI™ means Travellers who love taking photos of cities. The Italian brand, born in the heart of Rome, has created a casual chic collection of clothing and travel accessories for men, women and kids inspired by the city of Rome and its icons. Their friendly vibe and English-speaking staff makes your holiday shopping experience easier with unique souvenirs for yourself and your loved ones.
---
Mauro Rosi Vanni's lithographs of Rome
Via Frattina, 34 (Centro Storico)
vanniandcanalartgallery.it
Footsteps from the Spanish Steps you'll find Roman painter Mauro Rosi Vanni's home and studio, where you can purchase stunning lithographs of Rome. With a dynamic style, Vanni's lithographs capture the essence of Rome and are the perfect souvenir to hang up on your wall when you return home. Drop by his studio to see his gallery of work or head to any major bookshop from Rome to Venice (including the Vatican Museums and Uffizi) to get your souvenir. If you're out of time, you can also purchase lithographs directly on his website for the very reasonable price of €30. His most affordable pieces have affectionately been named "the miniatures" and are sold for €10.
Castroni
Via Cola di Rienzo, 196/198 (Prati)
castroni.it
When visiting Italy, the food is definitely something you're going to remember. At Castroni you'll find some of the best Italian products to take home with you. Their lovely selection of quality and well-packaged products include coffee, tea, sweets, jams, sauces, olive oils, wines and much more. This is the perfect place for foodies to find treats to keep Italy alive after the holiday ends.
Sempre Natale
Via della Scrofa, 93 (Navona/Pantheon)
semprenataleroma.com
If you celebrate christmas every year with a beautifully decorated Christmas tree, this is a perfect souvenir shop for you. Just 5 minutes walk from Piazza Navona is "Sempre Natale", meaning "Always Christmas". Here you'll find a wonderful selection of high quality handmade glass decorations in unique shapes. Remember the magic of Italy every time Christmas comes around.
Sant'Eustachio il Caffè
Piazza Sant'Eustachio, 82 (Navona/Pantheon)
caffesanteustachio.com
Less than 200 metres from the Pantheon you'll find this cafè. Known to serve some of the best coffee in Rome, pop in for one of their signatures like a "Gran Cafe". After your caffe, check out their coffee-inspired souvenirs, like a pack of Sant'Eustachio beans, moka makers, tote bags, cups, sweets, and lots more. Take home the memory of one of Italy's most loved pick-me-ups.
Booktique
Via della Stelletta, 17 (Navona)
booktique.info
Close to the Pantheon you'll find this like bookshop, Booktique. For curious minds looking for something a little different, Booktique offers a curated selection of books as well as creative gifts to take home with you. Some of the best souvenirs include their unique books, stationary, tea sets, ceramics, and even items like Venetian slippers.
Mercato Monti Urban Market
Via Leonina, 46 (Monti)
mercatomonti.com
Mercato Monti is an urban weekend market in one of Rome's hippest neighbourhood Monti. If you're in Rome over the weekend, visit this market and get yourself a local designer or vintage item to sport back home. There's a big selection of choose from, including clothing, handbags, jewellery, accessories and lots more.
Empresa
Via dei Giubbonari, 25-26 (Campo de' Fiori)
empresa.it
When thinking of souvenirs from Italy, leather surely comes to mind. For those wanting to take home a handmade leather item, Empresa is worth checking out. There are 2 stores along Via dei Giubbonari, just off the Campo de' Fiori market. Here's you'll find exquisitely made leather jackets, shoes, bags, jewellery and lots more. The quality of the products is exceptional.
Porte Portese Flea Market
Piazza di Porta Portese (Testaccio)
If you like flea markets, this is where you can find something unique and well-priced. This Sunday flea market is huge, the biggest in Rome. Here you'll find anything from leather jackets and Italian silk ties, to books and antiques. Visit in the early morning and spend a few hours here experiencing another side of Roman life while searching for something unique to take home with you.
Discover the secrets on how to navigate Porta Portese Market
Bartolucci
Via dei Pastini, 96-98-99 (Pantheon)
www.bartolucci.com
In between the Pantheon and the Trevi Fountain you'll find this wonderful Pinocchio-inspired shop, Bartolucci. Here you can find a selection of special wooden hand-crafted pieces, big and small. Most are of Pinocchio, one of Italy's beloved fictional characters. Celebrate the tradition of Italian wood craftsmanship with a souvenir from Bartolucci.
Almost Corner Bookshop
Via del Moro, 45 (Trastevere)
AlmostCornerBookshop
In the charming Trastevere neighbourhood you'll find Almost Corner Bookshop. This bookshop is small, but offers a great selection of books, with a particularly good amount of English language books. Here you'll find anything from contemporary fiction and nonfiction, to books about Rome. Perfect for booklovers wanting to take a slice of Rome home with them.