Where to shop in Rome's Monti neighbourhood
If you're on the hunt for some great shopping in Rome, skip Via del Corso and Via Condotti and head to the Monti neighbourhood, a must-visit. With a mix of artisanal boutiques, vintage shops and independent clothing shops popping up on just about every street, from Via del Boschetto to Via Urbana, it happens to be every shopping lover's dream. Discover our guide to the best shops and artisan boutiques in Monti.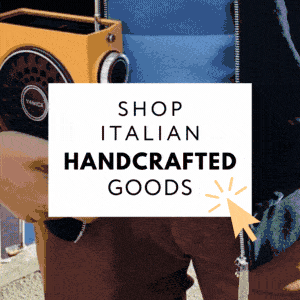 Atelier Mia Carmen
Via Panisperna, 62
Mon – Fri 10pm – 7pm, Sat 10.30am – 1.30pm; 4.30pm – 7.30pm
miacarmen.it
Mia Carmen's atelier is a place of haute tailoring, where unique garments are made from purely Italian materials by Roman tailors. Mia Carmen designs two collections a year plus specific garments at the customer's request. Her atelier is the place where the desires and needs of women and girls are listened to and realised. In fact, people are the main inspiration of the designer, the longing to make them feel good and at ease; in light, but strong, fabrics, in bright and classic colours, unusual and elegant combinations, and clean, refined cuts.
read the full review of Mia carmen
---
Pifebo
Via dei Serpenti, 135
Mon – Sat 11am – 8pm, Sun 12pm – 8pm
pifebo.com
Stroll down Via dei Serpenti and stop in Pifebo, Monti's official vintage gem. Here in the dimly lit, antique smelling, tiny shop, you'll be greeted with all the essentials: shoes, handbags, belts, clothing and hats. But what you really want to try on is the leather: well-priced, well-used with a soft feel and classic style. Pifebo receives new items almost every day, always having a rotating selection from vintage boots to bags. 
Read the full review of Pifebo
---
Moll Flanders
Via Urbana, 132
Mon – Sat 4pm – 8pm
MollFlandersRoma
One of the first second-hand consignment shops to open in the Eternal City, Moll Flanders ushers in a new wave of cool second-hand style. This store consigns and sells new and used contemporary designer clothing, shoes, and accessories for both men and women. The vibe is casual and friendly and the space is filled with an array of well-known designers.
Read the full review of Mall Flanders
---
Le Gallinelle Abito
Via Panisperna, 59 (Sacripante Gallery)
Tue – Sun, 11.00am-2am
facebook.com/ABITO61/
Le Gallinelle was founded by Wilma Silvestri in 1989. Almost everything in the store (located now inside the Sacripante Gallery) is made by the owner herself right in the back. She'll whip up her own modern designs or refurbish an old outfit into something worthy of the runway. For clothes that fit perfectly, don't miss it. They also feature couture clothing, which means that you can have a dress made for your very size and taste within a day.
---
Nous Atelier
Via delle Boschetto, 109
Mon – Sat, 10.30am –  7pm
nousatelier.se
This charming boutique is the brainchild of two talented sisters, Sarah and Paola, with a Swedish-Italian heritage. Inside, you'll discover a captivating collection of jewelry and clothing. The handcrafted jewelry has a distinct Scandinavian flair, characterized by its clean, minimalist design, making it the ideal choice for everyday use. Their clothing pieces, crafted with a blend of care and creativity, exude a unique charm.
---
King Size Vintage
Via Leonina, 78/79
Everyday 12pm-8pm
KingSizeVintage
Full of fabulous finds, this store makes it easy to imagine complete ensembles, from 70's flares to platform wedge shoes. The space is large and browsing is fun. King Size has a great and playful collection of vintage sunglasses and clothes, while the choice of men's accessories is vast.
---
Suede
Via Cavour, 186
Mon – Sat 10.30am – 1.30pm, 2:30pm – 7.30pm; Sunday 11am – 1.30pm, 2.30pm – 7.30pm
Suedestore
Suede is a specialty shoe store featuring women's and men's athletic and street style kicks including brands like Nike and Puma to Converse and Vans. Sportswear clothing is also available, like sweatshirts by Billionaire Boys Club, shorts, and jackets.
---
Tina Sondergaard
Via del Boschetto, 1
Mon – Sat 10:30am – 7:30pm; Sun 11am – 1:30pm, 2:30pm – 7pm
tinasondergaard.com
Tina Sondergaard is a Danish-born fashion designer who designs custom-made pieces that are contemporary yet drawing inspiration from the 1950s. Upon entering into the boutique, you will be greeted with a range of fabrics, styles and prints to choose from. Each customer is measured so that the piece is perfectly tailored and the final product will elevate an entire look.
Read the full review of Tina Sondergaard Boutique
Back to The Ultimate Guide to Monti Neighbourhood